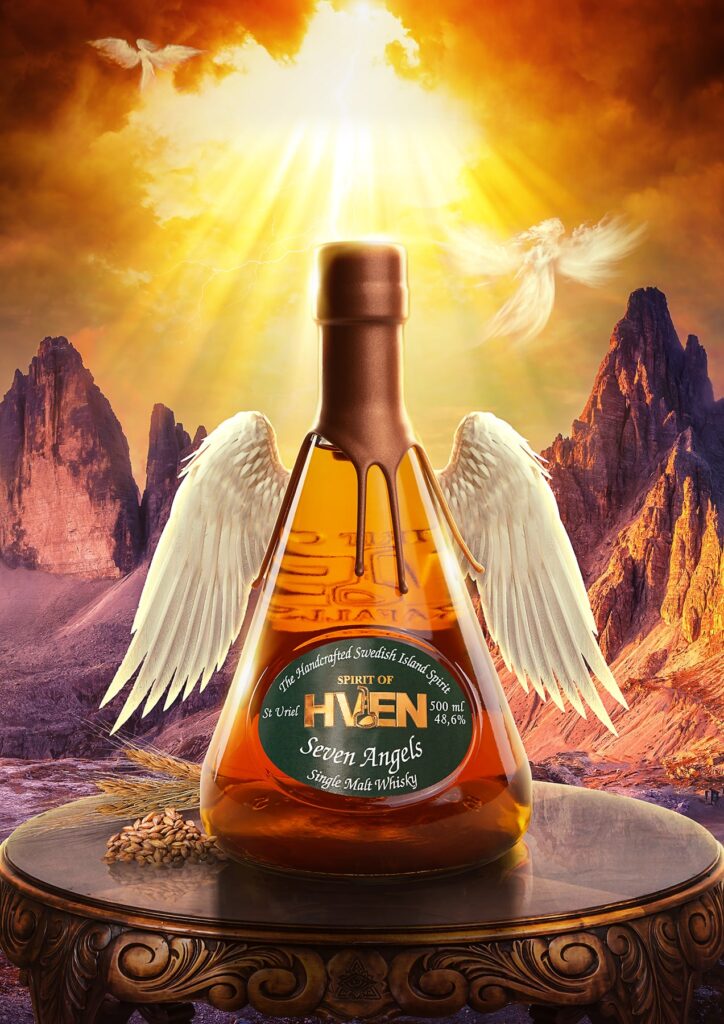 Seven Angels No.2 St Uriel
Buy
Seven Angels, is a series of seven single malt whiskies to be released from Spirit of Hven.
The second whisky in the series is St Uriel., This is a single malt whisky with a slight, modest touch of smoke. It is a limited edition made from eight (8) casks filled in 2012.
St Uriel is the fourth archangel in Christianity. Etymological Uriel means, God is my light.
According to the The Book of Enoch, from 200 b.c. Uriel was one of the angels that helped bury Adam and Abel in the garden of Eden. Maybe his concern was due to that according to the Secret Book of John, Uriel helped Yaldabaoth to create Adam.
St Uriel is a fantastic balance of eight casks with a lightly peated single malt whisky. Casks have matured in warehouses with controlled climate since 2012. Malt recipe are 70% malted barley, 25% peated malt (40ppm) and 5% chocolate malt. Yeast is 80% Cerevisiae and 20% Bayanus. Six of the casks are made from virgin Quercus Muehlenbergii (Chinkapin oak) heavy toast, heavy char. One cask is made of Quercus Macrocarpa (Burr oak), heavy toast, light char. The eight cask is made from Quercus Petraea from Allier, previously held a red cabernet sauvignon from northern Italy. All of the casks are made from oak air-dried for a minimum of 36 months. Before a very gentle filtration, the casks have been married together on tank with a light aeration.
Scent
first note is of the north Italian cabernet. With some aeration in, the whisky develops a strong note of malt and toasted oak. Lurking in the background there is a slight nose of menthol. The chinkapin oak contributes with the typical Hven note of butterscotch and fudge. A nice floral, flower scent with hints of banana and clear nose of vanilla and raisins in towards the end.
Taste
The taste is round even though the strength is somewhat higher. A careful filtration has kept the buttery esters and notes of vanilla that contributes with a nice texture. Acidity is balanced with a modest bitterness and highlighted sweetness from the Chinkapin oak.