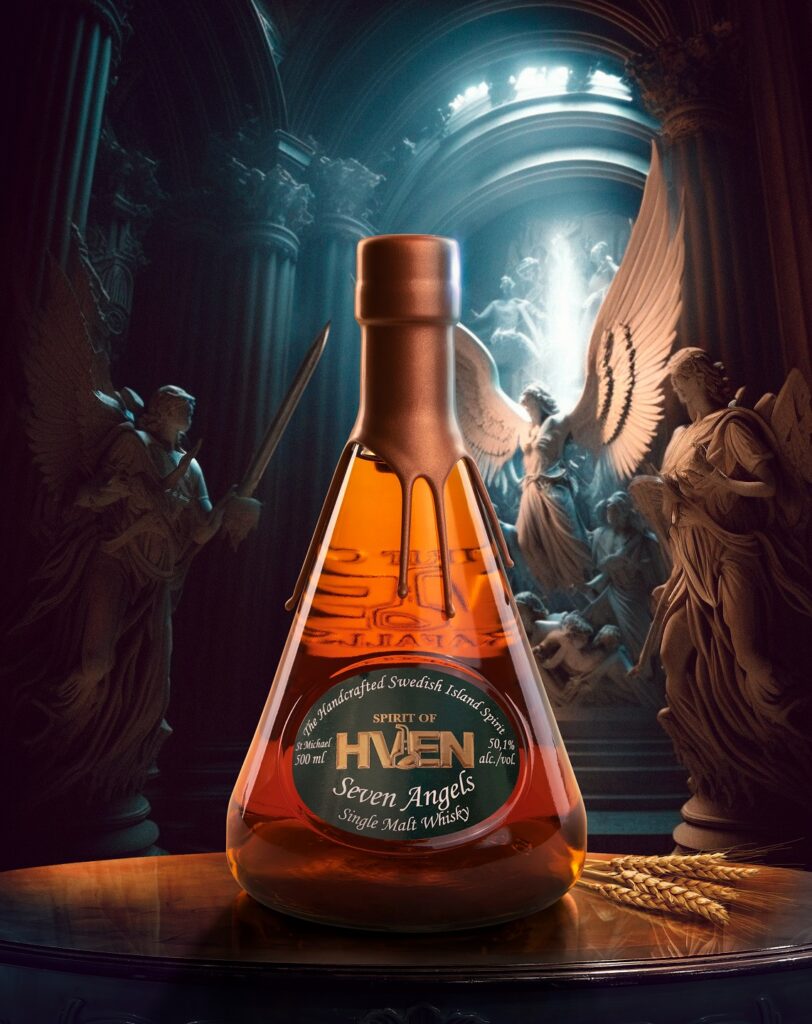 Seven Angels No.3 St Michael
Buy
Seven Angels, is a series of seven malt whiskies with different profiles from Spirit of Hven. The third whisky in the series, St Michael, is a tribute to the archangel Michael. He is often seen as the angel closest to God. His name is interpreted as "the one that sees God". He is the protector of heaven, and the one who leads the fight against the fallen archangel Lucifer. As the highest in rank amongst angels, he is the protector of the sun, and his orientation is south. His color is gold and his element fire. His weekday is Sunday.
St Michael is the archangel that frees the earth and man from the effects of fear. He has his own clarity and determination that can help us when we stand before choices in life. In the bible St Michael is commander in chief over the angel forces. Besides Michael, the only one given the leadership of the heavenly armies is Jesus. It seems strange to appoint two competing commanders; so maybe the logical explanation is that Michael and Jesus are one and the same.
According to the bible Michael will come forward "in a time of need". St Michael was the angel saving Isaac from being sacrificed by Abraham on mount Moria. As a fighting commander Michael is often depicted with a sword, defending virgin Mary against a dragon or Satan. Always prepared to stand up for the weak and advice the strong. The oldest and most known sanctuary dedicated to St Michael is Michaelion from early 4th century. It was situated in Constantinople, now Istanbul. With a fifth of Turkeys nationals, it is its largest city and foremost economic, cultural, and historical hub.
In these unrestful times and in a world damaged by war, catastrophe and disagreements; it can be good to have an archangel to ask for a moment of peace, rest and contemplation. St Michael have inspired our master blender to this whisky. Like the archangel's work on several fronts, to assist where needed be; we can here enjoy seven disparate casks, with different heritage and content, coming together to form an army to defeat and unite our taste and scent buds. It shows that the bundle of twigs is stronger than the single branch.
How we make it
St Michael is a lovely combination of seven casks. Four casks of airdried French Q. Petraea, two of airdried American Q. Muhlenbergii and one from Iberian Q. Rosacea. The single malt spirit was distilled on Hven in 2012 and has matured on Hven. Among the four French casks, two has previously held red wine; one French Premier Grand Cru Classé and one Italian DOCG. Two has previously held Italy´s best sweet wine. All four are unsmoked malt. The two American casks are balancing each other. One is a light whisky matured on a second fill casks previously holding the light Urania whisky, and the other is a heavy char virgin cask filled with Hven's smoky recipe (38ppm). The seventh, Iberian cask, is a PX Sherry cask (Butt) that has matured with our smoky, peaty recipe (38ppm).
Scent and taste
Without water, the first scent dancing up the nostrils like a whirlwind, is a delightful combination of hazelnut crème, pear and mature red wine. With air the aroma blooms with notes of apricots, chocolate, and caramelized honey. Scent of baked bread in the backdrop. Taste without water is intense and rolls out all over the tongue. It activates all the tastebuds and plays sweetness and bitterness in a perfect harmony. It shows oiliness in the end followed up by a distinct pepperiness and hints of minerality.
With water, scent and taste opens up. The whisky likes a healthy pour of water, even up to a third water. The aroma grows, to almost transcend in a chaos like scent explosion. When the water has gotten used to the environment, it calms down, and spreads like a soft blanket on a summer meadow in blossom. The enchanting aroma tells a tale of a fire in the distance and the scent of baby back ribs au gratin with chocolate, glaced with honey marinated apricots. The taste is balanced with a light peppery note. Aftertaste is long with clear maltiness.
Facts
Limited edition, only 2640 bottles of 500ml, whereof 1200 to Systembolaget, release date: 2023-03-03