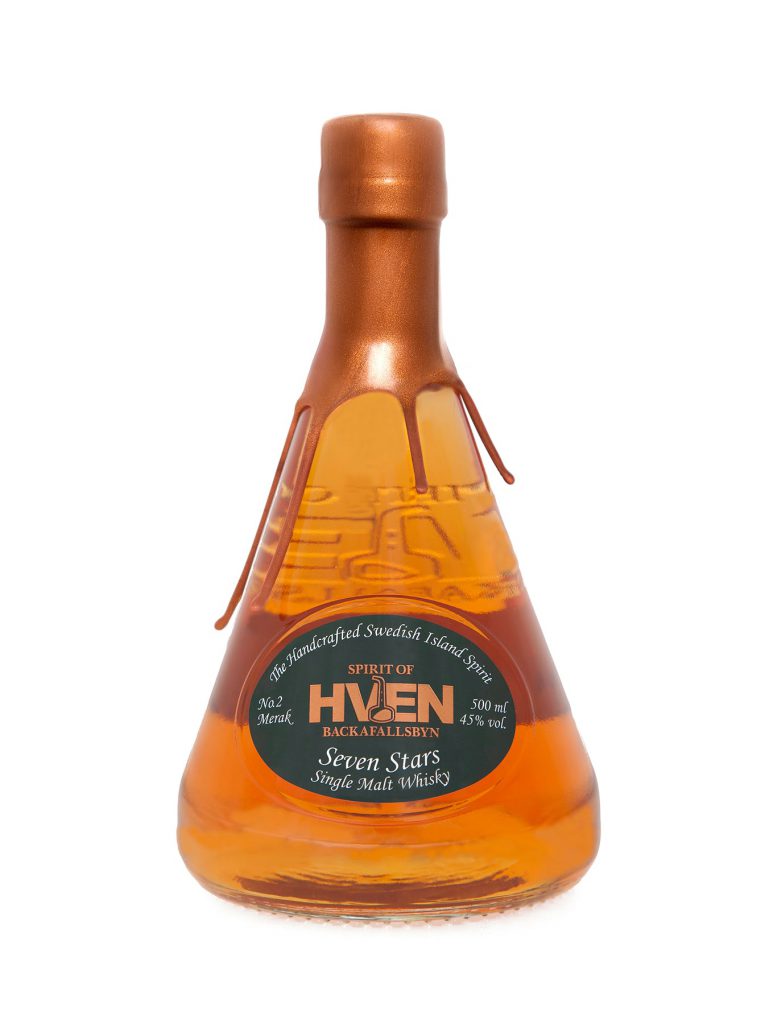 Seven Stars No.2 Merak
This Whisky is the second release in the "Seven Stars" series from Spirit of Hven. It is a medium smoky Single Malt Whisky, created from barley to bottle at the small family owned distillery situated on the island of Hven in between Denmark and Sweden. It is named after the star Merak in the asterism Ursa Major (Big Dipper, the Plough).
As the predecessor Dubhe, this whisky called Merak is soft and round with a youthful freshness. It has distinct but smooth smokiness, which in combination with liquorice and leather notes gives a rich mouth feel. Maturation involves American, French, and Spanish oak, the American contributes toffee and vanilla, the French provides liquorice and peppery notes, Spanish oak keep the others in balance giving herbs and dried fruit. In all only 25 casks was blended together to create this smooth Single Malt.
Scent
Without water the whisky shows a nose filled with liquorice and leather, herbal spice and a lingering peat. There is a clear scent of smoke intertwined with fresh orange blossoms and rose petals all combined with a light sea breeze of salty ocean. Behind the light peppery scent a clear note of vanilla and chocolate develops.
Taste
The taste is soft and gentle with a bite of youthful freshness that reminds of elderflowers and smoke combined with fudge vanilla. The aftertaste is lingering with clear smoke and hints of tar. It is oily, fresh and very smooth.