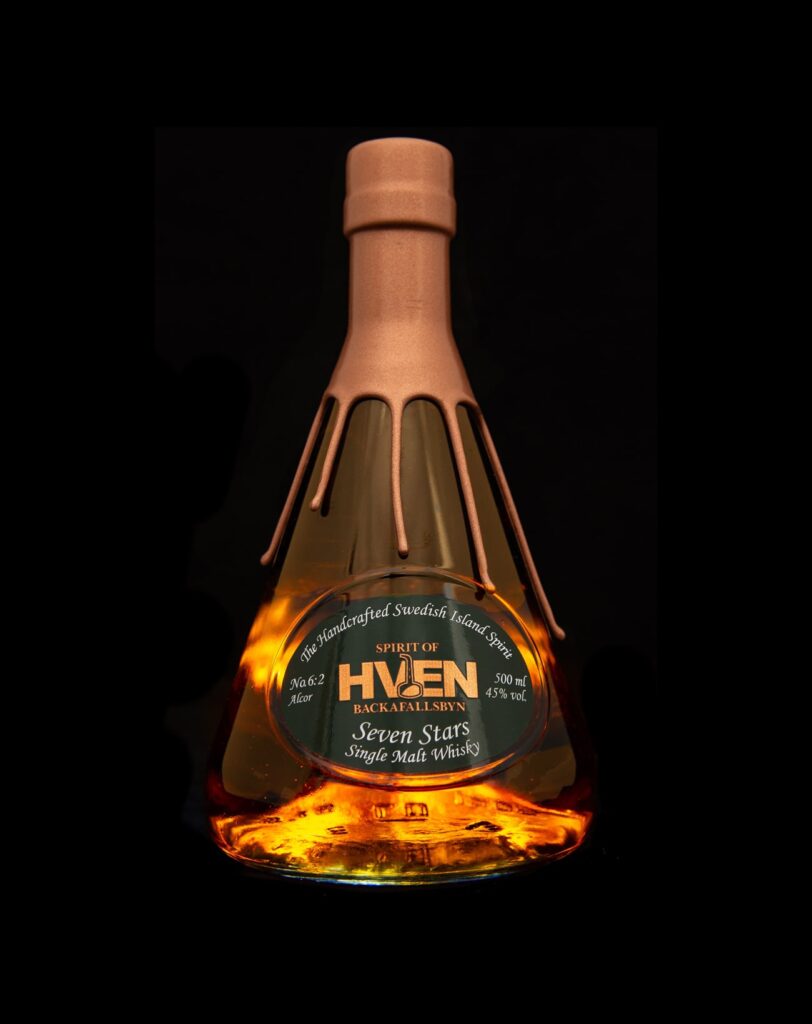 Seven Stars No.6:2 Alcor
Alcor is number 6  in the Spirit of Hven "Seven Stars" series. It is the most unique so far amongst the releases. A fantastic marriage of American and European oak. Presenting a wonderful combination of traditional whisky lactones with herbal freshness and younger, vibrant and enticing wine cask character. The whisky has a mesmerizing scent- and taste palate with a delicious balance between freshness and maturity, sweetness and acidity, bitterness and texture.
The mashbill is the same as with 6:1 Mizar; 58,8% lager malt, 35,3% peated malt (38ppm), 5,9% chocolate malt. This single malt whisky is a blend of seven casks. Three casks made of Petraea oak from Allier that previously held chateau Margaux; one cask made of Faginea oak from Portugal that previously matured Olorosso sherry; two casks made of Muehlenbergii oak from Missouri that was used to mature Hven Vodka; and one cask of Burgundy Robur oak that used to mature Maculan Torcolato.
Scent
First scent impression is raisins, then followed by a light liquorice smokiness. Rich nuances of dark chocolate and coffee combined by a distinguished scent of leather. Dried plums in the background. Mature and elegant, yet full of life.
Taste
The taste is surprisingly round even at 45 %vol. Delicate bitter notes that do not overpower the sweet oak lactones and wood sugars. Lands mid-back-tongue. Long, sweet aftertaste with soft tannins. Great, big mouthfeel, wins on not being chill filtered.