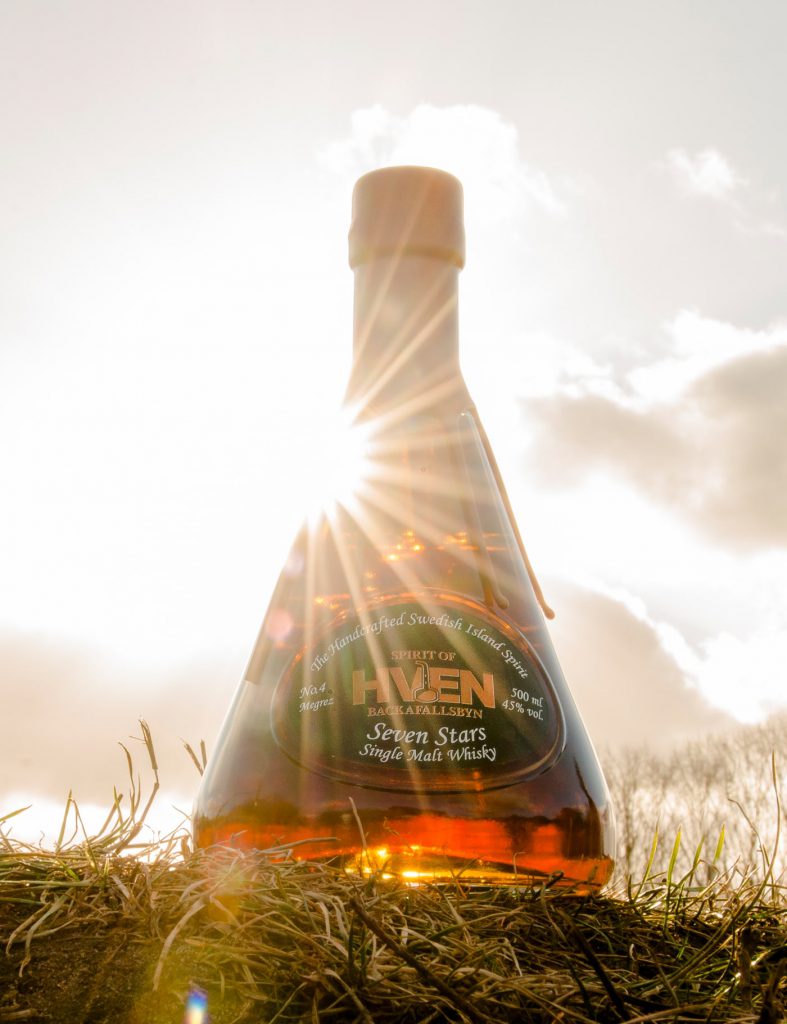 Sevens Stars No.4 Megrez
This whisky is the forth in the "Seven Stars series" from Spirit of Hven. It is a lightly peated single malt whisky, made from grain to bottle in the small family owned distillery situated on the island of Hven in the strait between Denmark and Sweden. It has got its name from the star Megrez in the asterism Ursa Major (the Plough).
The Base in Megrez is 5% Chocolate malt, 40% Peated malt and 55% Pilsner malt. The distillate has matured on 8,4% French Petraea, 33,4% French Robur and 58,2% American Muehlenbergii. The whisky has had a finish on Spanish Quercus Robur. These 500L marrying casks have previously held Pedro Xim nez Sherry, providing a light note of raisins in the background. The peaty, smoky notes are modest, 26ppm phenols, apparent but not overpowering. Like a campfire from a distance. During the first maturation Muehlenbergii oak have contributed with soft vanilla notes, Petraea with liquorice and pepperiness and Robur casks with earthy base notes. The finishing on Sherry casks has contributed both with sweetness and herbal notes from the wood as well as a charming scent of ripe grapes from the Pedro Xim nez wine.
Scent
Without water the whisky gives away a scent of fresh leather with a hint of pepperiness in the back, surrounded by a soft vanilla scent spiced with figs and raisins. After the first impression has settled notes of dark chocolate and fresh roasted coffee appears.
Taste
The taste is vibrant and well balanced mid tongue. It has a sweet character from the fresh oak and a lovely texture with hints of Pedro Xim nez. The aftertaste is medium long without bitter notes, a light acidity is balanced by the wood sugars.