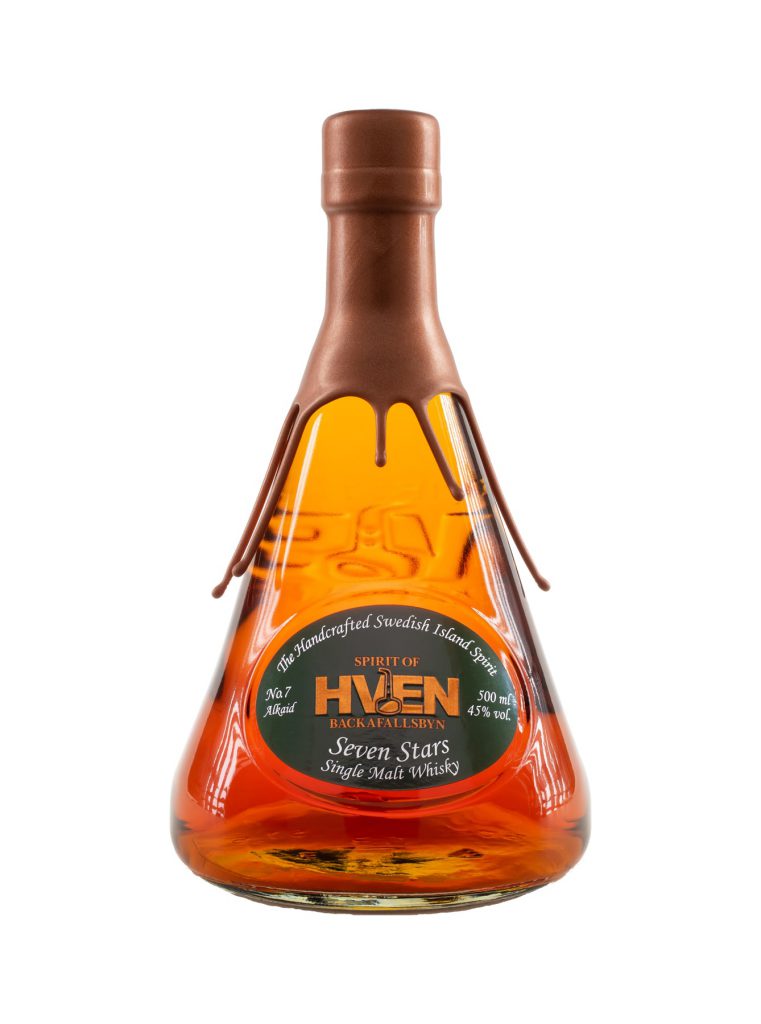 Seven Stars No.7 Alkaid
Alkaid is number 7 and the last in the Spirit of Hven "Seven Stars" series. It binds up the quintessence from the former editions by embracing parts of what's been unique in every star. There are notes of American and European oak, aromas of elegant wines as Margaux and Sherry as well as a soft hint of smoke.
The recipe for Alkaid is the most complex and powerful of the stars in the series. It is slightly smokier than its predecessors, this is balanced by a substantially longer maturation on air-dried oak. The nine casks in the blend are made from 12,35% lager malt, 9,5% chocolate/ale malt and 78,1% peat smoked malted barley.
Scent
First aromas that hit the receptors are licorice and raisins, they are followed by rich scents of dark chocolate and coffee. The whisky has a soft vinous note with pronounced Cabernet Sauvignon. Despite a high proof the scent is more ingratiating than intrusive with light perfumier notes. There are soft notes of smoke, almonds and violets. Malty notes are pronounced and balanced by a fresh aroma of ripe apples.
Taste
The taste is elegant and soft even at 45%vol. Alkaid has a light oily note landing mid-tongue. Acidity and tannins are well balanced, and the whisky is perceived mature. The oak contributes delicate esters and astringency followed by an enticing sweetness from wood sugars and lactones.